To ensure that the smooth graduation of graduates during the epidemic prevention and control period, the Institute of Surveying and Mapping Engineering of the School of Civil Engineering carried out the "Online and On-Site" 2020 Master Thesis Defense from 9:00 am to 15:30 pm on May 23. The defense was conducted using the Tencent Meeting software platform. Participants include graduates, defen...
read MORE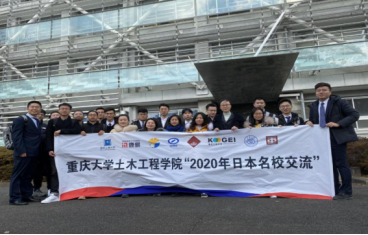 As we all know, there has been a 7-day exchange during the winter vacation of 2020. We twenty students, on behalf of the members of Civil Engineering, Chongqing University, left Chongqing on January 13th and returned to school on January 19 from Japan.First day of communicationAt 9 am of local time on January 14, 2020, Professor Wengang Zhang, deputy dean of the School of Civil Engineering, an...
read MORE
In order to enhance the understanding of the disciplines and industries of civil engineering students, continue international development, and establish college honor system for our outstanding students, the School of Civil Engineering in Chongqing University(CQU) organized students on December 17-24, 2019  8-day learning exchanges with China Construction (South Pacific) Development Co Pte Ltd,...
read MORE